Healthy Raw Treats: our whitefish is locally sourced from Cornwall and gently air dried to retain its natural taste and nutrients. Made from 85% whitefish, these treats are grain-free, additives-free and hypoallergenic- ideal for raw diets
Dental & Joint Care: Omega 3 is an essential fatty that cannot be created by the body so it must form part of our diets. Whitefish contains a huge amount of Omega 3 which can reduce joint inflammation and cartilage breakdown resulting in improved joint mobility. And, in the same way, it can maintain gum health and keep teeth securely rooted, preventing tooth decay
Skin & Coat Support: fish is renowned for being very effective at reducing skin inflammation and increasing skin hydration, leading to healthy (less itchy!) skin and beautiful coat condition
Puppy Development: with such a high protein content of 42.8%, numerous minerals and vitamins including Omega 3, these fish treats are a perfect supplement for strong and healthy development
Super Tasty: Ever wondered what dogs ate before humans began to breed them? It wasn't gravy bones, of course, but raw fish and meats. That's why our furry best friends love these whitefish cubes so much, they are perfect for their health, wellbeing and are absolutely delicious!
At My Pet Hero, giving back to less fortunate animals is at the very core of everything we do. That's why we made the promise to donate a packet of treats to dog shelters around the UK for every order you make, meaning that both you and your pet can have a massive impact on the wellbeing of doggies all around the country.
Given that our treats are 100% natural and full of essential nutrients for a healthy diet and a happy life, the free treats that we give away to shelter dogs help to strengthen their immune systems, improve memory and brain development, maintain healthy teeth whilst also promoting great coat condition. All of these amazing benefits of our treats make shelter dogs look and feel better, which is a huge contributor to them ultimately getting adopted by humans!
Make My Pet Hero treats a regular part of your pet's diet and join us on our ambitious mission to support all shelter dogs in the UK.
Composition: 85% Whitefish, 15% potato
Analytical Constituents (per 100g):
Protein 42.8%
Fat 8.5%
Ash 14.7%
Moisture 3.8%
Crude Fibre 1.6%
Suitable for: Dogs
Treats are healthy in moderation and can be used as rewards, but should be coupled with proper foods for a complete diet.
Please take care of your pets when feeding and always make sure that fresh drinking water is available.
Store in a cool, dry place away from direct sunlight. For animal use only.
Keep out of reach from children.
FREE Standard Shipping (2-3 working days) on ALL orders in the UK over £20.
For orders under £20 there will be a flat charge of £2.95 for Standard Shipping (2-3 working days).
Returns & Refunds
We offer a 30-Day Money Back Guarantee, which means if you are dissatisfied for any reason you can return the treats within 30 days and receive a full refund. At My Pet Hero, it's 100% satisfaction, always.
For our full return and refund policy, please click here.
Customer Reviews
03/01/2021
Charlotte H.

United Kingdom
Delicious!! Can't get enough...
My fussy pup loves these treats. His favorite is the whitefish cookies. I love the passion behind this small business and the great cause it is for. Couldnt recommend more. I love that there is a variety of different treats to make it more fun than the same treats everyday. Quick delivery and great prices.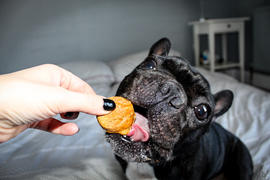 Hero doggo
Dogs love these fishy cookies. They are both raw fed and get these as treats as part of their vitamins and fish oil supplements. Large bag of well packaged treats delivered quickly and a good price.
Thank you so much for the kind review, Kristy! We're glad you love the treats :)
Yummyyyy
Having a 2 year old malamute being a pescatarian it's helpful finding some good quality fish treats that are low in calorie, good for him and him actually liking them. Thank you
Thank you so much for the kind review, Vera! We're glad you love the treats :)
GREAT HEALTHY DOG TREATS
I like the idea of regularly buying the same old treats for my dogs but simultaneously be contributing to a really important cause for me as an animal lover. That's the main reason I switched to My Pet Hero from the previous brand.
Thank you so much for the kind review, Matthew! We're glad you love the treats :)
My dog adores these
Recommended by a friend to try these natural fish biscuits for our dogs as we are moving away from treats with unknown content. So far the dogs love them so will certainly carry on buying. Was interested to see your info. about how they are produced; also they arrived very quickly. Good to find a product like this. Many thanks.
Thank you so much for the kind review, Anne! We're glad you love the treats :)